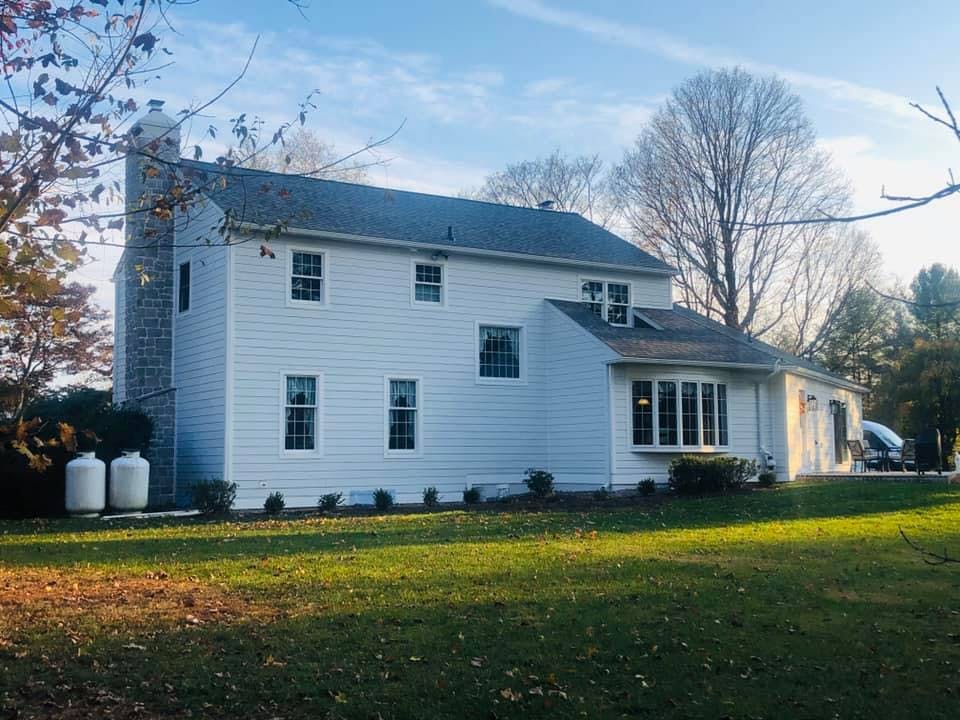 In the market for new siding for your home? You're probably searching for a material that's attractive, affordable, and built to last.
CertainTeed siding is a great option for any home. The CertainTeed brand is one of the most trusted in the industry, known for its assortment of fade-resistant colors, exceptional durability, and lifetime limited warranty.
Here are some of the benefits of modern siding, along with your options for CertainTeed styles and colors.
Benefits of Modern CertainTeed Siding
Modern siding has come a long way since the early years. Homeowners consistently choose modern siding over more traditional options because of the many benefits offered by products like CertainTeed siding.
Higher Quality than Older Forms of Siding
CertainTeed has invested a lot of time and money over the years into making its best-selling siding look as natural as possible. Modern siding no longer resembles the cheap, plastic-like materials of the past. Today, it's almost indistinguishable from genuine wood and other traditional siding materials.
Many Styles Available
One of the biggest benefits of CertainTeed siding is that it's available in so many different styles. Your home's exterior is one of its most important aesthetic elements, so homeowners should have plenty of flexibility when choosing.
CertainTeed offers numerous options, from general styles to individual colors and textures. No matter what kind of home you have, CertainTeed siding is a perfect match.
Low Maintenance
Another major reason homeowners are opting for modern siding is because of its low maintenance.
Traditional siding materials like wood require constant sealing or repainting and are more prone to damage from the elements. Hiring professionals to perform these tasks can get expensive over time.
By contrast, modern siding is easy to clean, doesn't require painting or staining, and will stay looking new for decades.
More Durable
Siding is your home's first line of defense against the elements. Unfortunately, it can be damaged by any number of weather events and is prone to rapid wear and tear in extreme temperatures.
Homeowners should feel confident that they're investing in a durable material that will protect them no matter what conditions the forecast calls for. CertainTeed siding is one of the most durable brands around and one of the only ones to offer a limited lifetime warranty.
U.S. Manufacturing
CertainTeed siding is 100% North American-made. The company does the majority of its manufacturing in the United States, providing valuable jobs to hard-working Americans.
The fact that CertainTeed siding is manufactured locally also means homeowners aren't left waiting weeks or even months for their siding to arrive. When you place an order, you're guaranteed a quick turnaround time and an equally fast installation.
CertainTeed Styles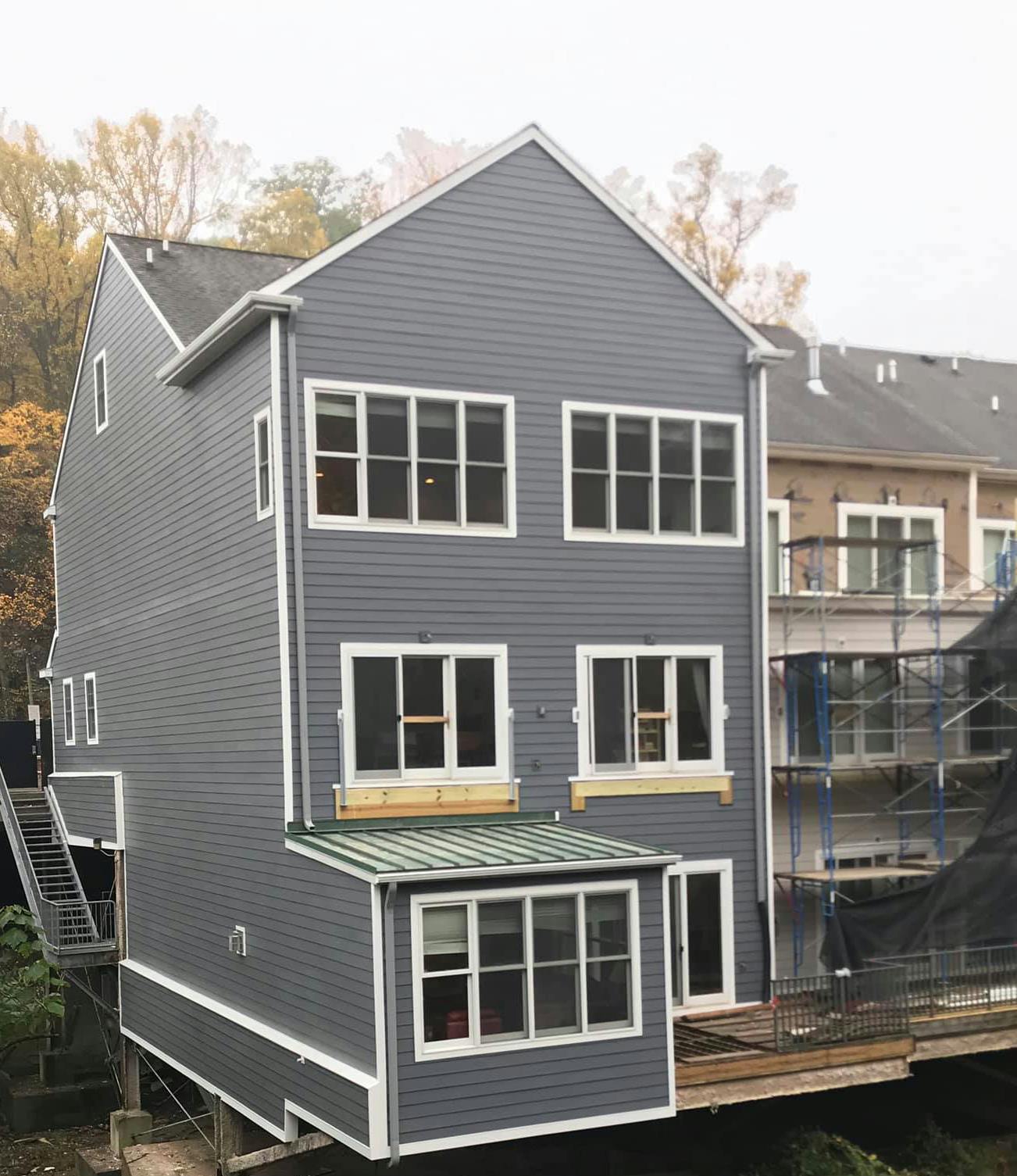 CertainTeed offers one of the industry's most robust portfolios of siding styles. Whether you're looking for classic styles, elevated modern, or anything in between, you're guaranteed to find an option that suits your preferences.
Vinyl Siding
CertainTeed offers top-of-the-line vinyl siding in an array of styles perfect for any home. Their vinyl siding is among the best in the industry and is manufactured using the latest technology and techniques. In fact, most homeowners can't tell the difference between CertainTeed vinyl siding and traditional materials like wood.
The company's many vinyl collections include:
– Northwoods Shakes and Shingles
– Cedarboards Insulated Siding
– Monogram Vinyl Siding
– Restoration Classic
– Encore
– Carolina Beaded
– Mainstreet
– Wolverine American Legend
– Vinyl Soffit
– Board & Batten
– Reverse Board & Batten
Vinyl CertainTeed siding can be found on homes in suburban neighborhoods, remote wilderness areas, and everywhere in between.
Polymer Shakes and Shingles
CertainTeed offers much more than just traditional siding — they also have shakes and shingles for homeowners with specific home styles.
Homeowners with shake and shingle exteriors have long been limited to traditional wood shakes. With CertainTeed siding, they now have the option to use a more versatile, durable material.
In addition, most homeowners agree that polymer shake siding looks and functions just like the real deal, only with less maintenance and stress.
Stone Veneer
Traditional stonework is expensive, time-consuming, and incompatible with some homes. It's also incredibly heavy and can compromise the structural integrity of even the most well-built dwelling. Stone veneer is a great alternative that looks just like actual stone but is much lighter, cheaper, and easier to install.
Stone veneer can add greatly to the value of a home, whether it's put in as a siding replacement or an accent to existing siding. The stone veneer is installed using a unique paneling system that ensures the siding stays put regardless of the natural forces and elements acting against it.
Unlike real stone, which tends to break and fall off in pieces after enough years, stone veneer pieces make cracking, crumbling, breaking, and other damage far less likely. CertainTeed also offers a warranty on its stone veneer products, meaning you'll be covered if anything goes wrong.
CertainTeed Color Options
CertainTeed siding comes with one of the most extensive color palettes in the industry. From classic whites and browns to more vibrant shades and innovative new hues and patterns, they provide homeowners with everything they need to bring their home design dreams to life.
Not only does the company offer the most colors of any modern siding manufacturer, but they've also developed industry-leading tools to help homeowners find a color that suits their home.
CertainTeed's Colorview tool is perfect for homeowners in need of inspiration. You can browse colors by home type, design type, or color palette. You can even upload a photo of your current siding if you want to match, complement, or replace an existing color.
The Bottom Line on CertainTeed Siding
If you're looking for durable, beautiful, and long-lasting siding, look no further than CertainTeed. This brand has built a sterling reputation in the industry by providing products of superior quality, with a vast portfolio of offerings to meet any and all needs.
Not sure which color or material to choose? The experts at Friel Plastering can lend a hand.
We have decades of experience helping our clients accomplish their siding goals. Contact us today to get started on your next project or request a quote for our services.