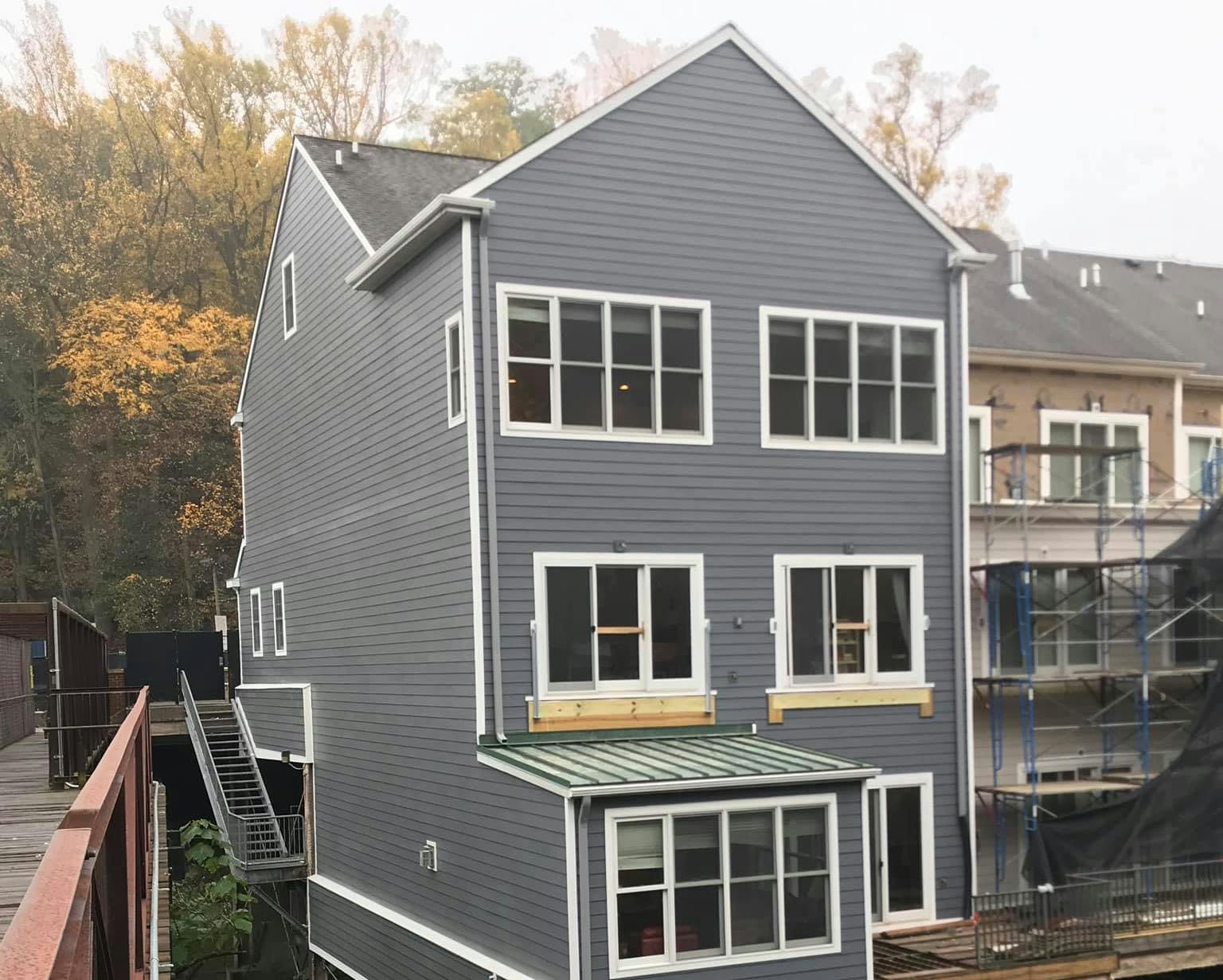 James Hardie is the leading home exterior siding brand in the United States. With that in mind, what can you expect James Hardie siding to bring to your home? The fiber cement siding invented by James Hardie is durable within variable climates, sustainably manufactured, uncompromising in style, and simply a great value when compared to alternative siding options.
Designed with Durability in Mind
There are five aspects of durability which James Hardie products excel at. These are protection against moisture, weather, fire, pests, and the passage of time.
Moisture Protection
Although James Hardie's fiber cement siding mimics the appearance of traditional wood siding, it has the ability to withstand moisture much better than its wood counterpart. Moisture damages wood in multiple ways. The most obvious of these is that moisture can lead to rotting, both of the wood siding itself as well as of the underlying structure if it is allowed to intrude. But after hundreds or thousands of wet/dry cycles, wood siding can also expand or simply begin to break down.
The expansion of wood siding can cause cracking and splitting as the panels push against each other, which then allows moisture to penetrate further into the exterior of your home. Panels can be spaced apart when installed to account for this expansion, but that leaves unsightly gaps until then. Fiber cement siding is much more resistant to moisture and so you will not have to worry about these same problems.
Weatherproofing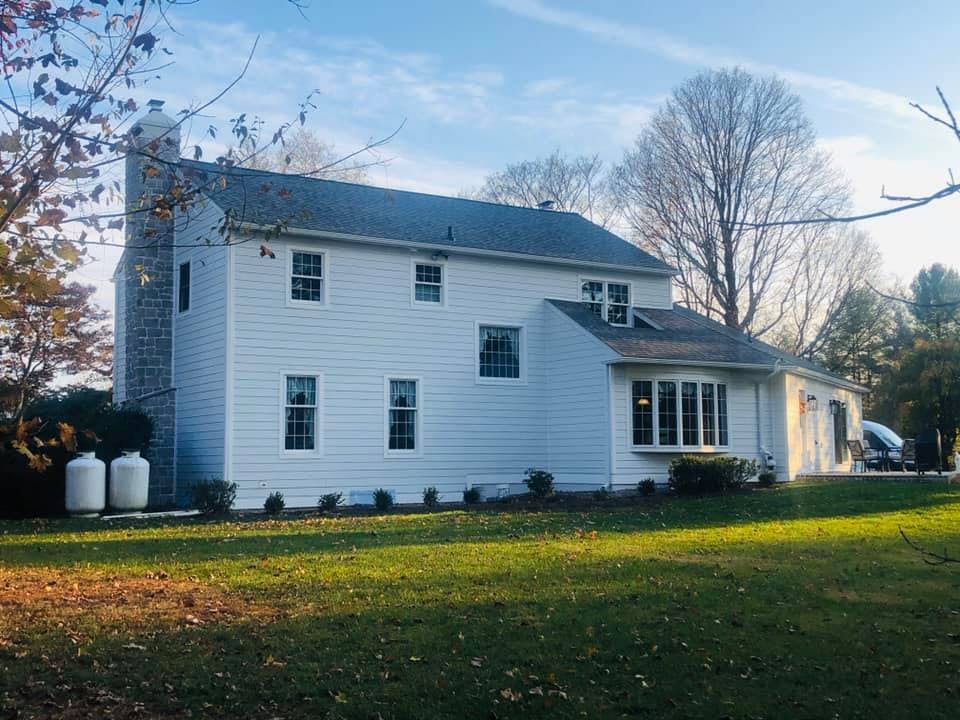 Wind, hail, snow, and more can all result in damaged siding. Vinyl siding is particularly vulnerable to impact damage caused by high winds and hail. Wood siding is vulnerable to the freeze-thaw cycles that occur throughout the year. And both siding materials can be stripped from the side of a building if winds are high enough.
Fiber cement siding can withstand impacts better than other siding materials. It's also not as affected by high ambient temperatures or freeze/thaw cycles. Depending on the environment you live in, James Hardie has different performance specifications for their siding. Here in Pennsylvania, we have a cooler and wetter climate, so your siding will account for that. And, fiber cement siding is less likely to be stripped from the surface of a building by wind than vinyl or wood.
Fire Resistance
While more homes are damaged each year due to wind and water, fires are some of the most dangerous causes of home damage for occupants. Fires can spread fast, which is what makes them so dangerous and damaging. But, traditional exterior siding options don't do much to prevent fire from spreadings. Wood goes up in flames and vinyl is prone to melting.
Hardie siding is non-combustible and resistant to high temperatures, making it a safer alternative to wood and vinyl. It suppresses the spread of fire, limiting the damage done to your home and giving you more time to escape from the premises. For this reason, many new homes are relying on James Hardie from the start.
Pest Resistance
Both wood and vinyl siding can be damaged by pests, such as birds and insects. Birds peck at siding and may even make nests within broken portions. Insects are also able to burrow into exterior siding, which isn't something any homeowner wants. Luckily, this isn't an issue with fiber cement siding as pests are unable to penetrate the material.
Longevity
Over time, all siding materials will wear, break down, and offer less protection for your home. However, in part due to the aforementioned durability benefits, fiber cement lasts longer than alternative siding options.
Sustainability as a Core Benefit
If sustainability is high on your list of priorities for home building materials, James Hardie products are a good choice. Hardie siding is manufactured using recycled material to cut down on waste production. They also strive to reduce both waste production and energy usage throughout all aspects of their manufacturing process. When you choose James Hardie siding, you can rest assured that you're supporting sustainability.
Unmatched Style
Hardie siding has the same great, textured look as wood siding, but thanks to the increased durability of fiber cement, that great look lasts longer than it does with traditional wood siding. And with James Hardie's ColorPlus technology, the color of your siding will resist fading due to UV rays.
One of the hardest choices when selecting new siding for your home is what color you want. This can often be the choice that takes the longest amount of time. But James Hardie simplifies this selection process by providing a curated collection of 15 colors chosen by their color professionals.
Arctic White
Cobble Stone
Navajo Beige
Monterey Taupe
Khaki Brown
Timber Bark
Pearl Gray
Light Mist
Gray Slate
Night Gray
Boothbay Blue
Evening Blue
Aged Pewter
Iron Gray
Mountain Sage
First-Rate Value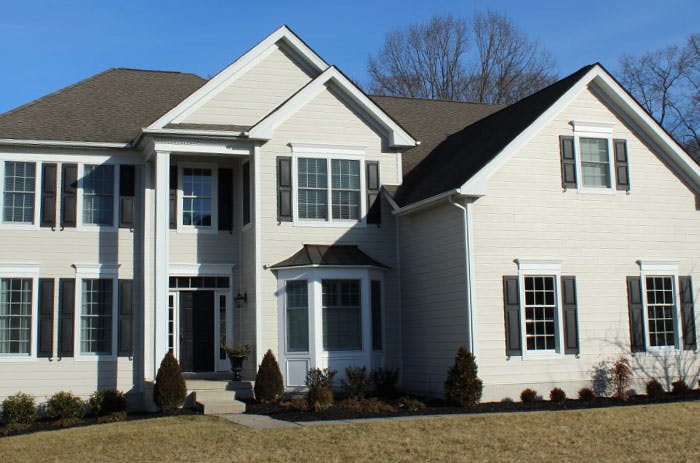 With all of these benefits, you might expect that James Hardie siding would be an expensive option. The truth is that it costs less than wood siding (but more than vinyl siding). The relatively low cost combined with the longer-lasting material and color means that Hardie siding is a great value for your home. And thanks to its enhanced fire resistance, you may even find that your insurance premiums decrease as well.
Additionally, James Hardie siding comes with a 30-year non-prorated warranty. The peace of mind you get from Hardie siding can't be matched.
Is James Hardie Right for Your Home?
James Hardie products bring durability, sustainability, style, and value to every home they are applied to. Their products protect against moisture, weather, fire, pests, and general wear over time. The materials are also sustainably sourced and have unmatched style, so you can feel good about your home's new look.
Friel Plastering
Is it time to give your home an exterior makeover? Contact the stucco and siding professionals of Friel Plastering to learn more about siding options for your home.